Goodyear 0% Installment Plan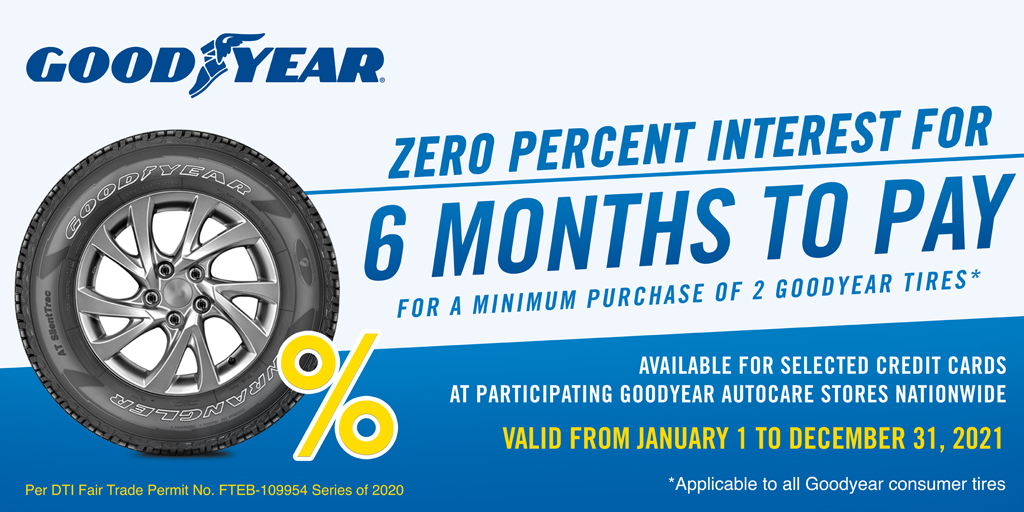 Mechanics:
Promotion period is from January 1 to December 31, 2021.
Minimum single-receipt purchase of two (2) Goodyear consumer tires only. This promotion does not cover services rendered such as labor on installation, wheel alignment, among others and other complementary products such as oil, lubes, among others.
Promotion is valid to select credit cards at 0% interest for 3mos. and 6mos. payment terms.
Available at participating Goodyear Autocare outlets only. Please call your preferred outlet to check if the offer is available. Visit https://www.goodyear.com.ph/store to view the list of Goodyear Autocare outlets nationwide.
This promotion is not valid in conjunction with other promotions or discounts subject to dealer discretion.
Eligible Tire Patterns:
DuraPlus
GT3
Assurance DuraPlus 2
Assurance DuraPlus
Assurance TripleMax 2
Assurance TripleMax
Eagle F1 Directional 5
Eagle F1 Asymmetric 2
Eagle F1 Asymmetric 3
Eagle F1 Asymmetric SUV
Wrangler TripleMax
Wrangler AT/SA
Wrangler AT SilentTrac
Wrangler DuraTrac
Wrangler AT Adventure
Wrangler MTR
Wrangler SilentArmor
EfficientGrip SUV
EfficientGrip Performance SUV
Per DTI Fair Trade Permit No. FTEB-109954 Series of 2020