Raining Great Gifts with Goodyear
Promo Mechanics:
Customers may avail of the promo from July 1 – September 30, 2022, at Goodyear Autocare participating stores only. View the list of participating stores below.
For every purchase of at least 2 tires (eligible patterns only) customers will get a price discount and e-gift via GiftAway:
a. For purchases via cash and auto-debit payment – an automatic extension of a 10% discount from the sell-out price of the participating SKUs.
b. For purchases via credit card payment– an automatic extension of a 5% discount from the sell-out price of the participating SKUs.
Customers will be given a Worry-Free Assurance (WFA) card. Customers must register online with the WFA card using the QR code or go to this link https://tinyurl.com/4yept2e7 to access the registration page.
During the WFA registration, customers must select (1) one preferred e-gift equivalent to their e-gift value. They can only choose (1) one from the following merchant partners: GCash (Online Wallet), Paymaya (Online Wallet), Max's Group (Restaurants), Mercury Drug Store (Medicines)
Customers shall ensure that all provided information is correct. Goodyear Philippines will not be liable for any wrong information supplied by the customer in the online registration.
Customers will be asked to upload a clear copy of the sales invoice.(For credit card purchases, the customer must upload the sales invoice together with the credit card payment slip.)
A text message from GiftAway with the unique code will be sent to customers within 2 working days from the date of successful online registration.
Goodyear Philippines will only be entertaining GiftAway claims for tire purchases within the promo period.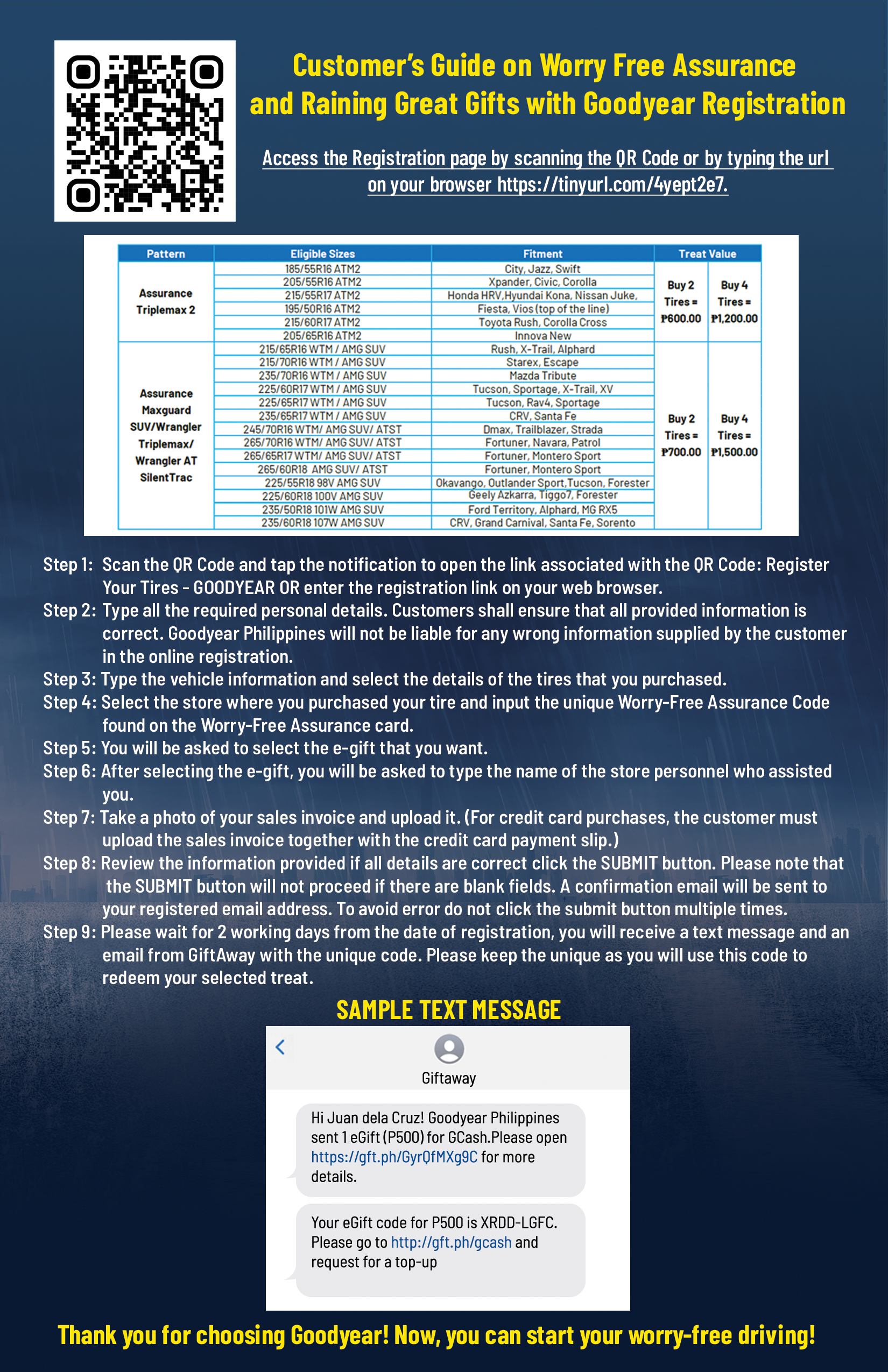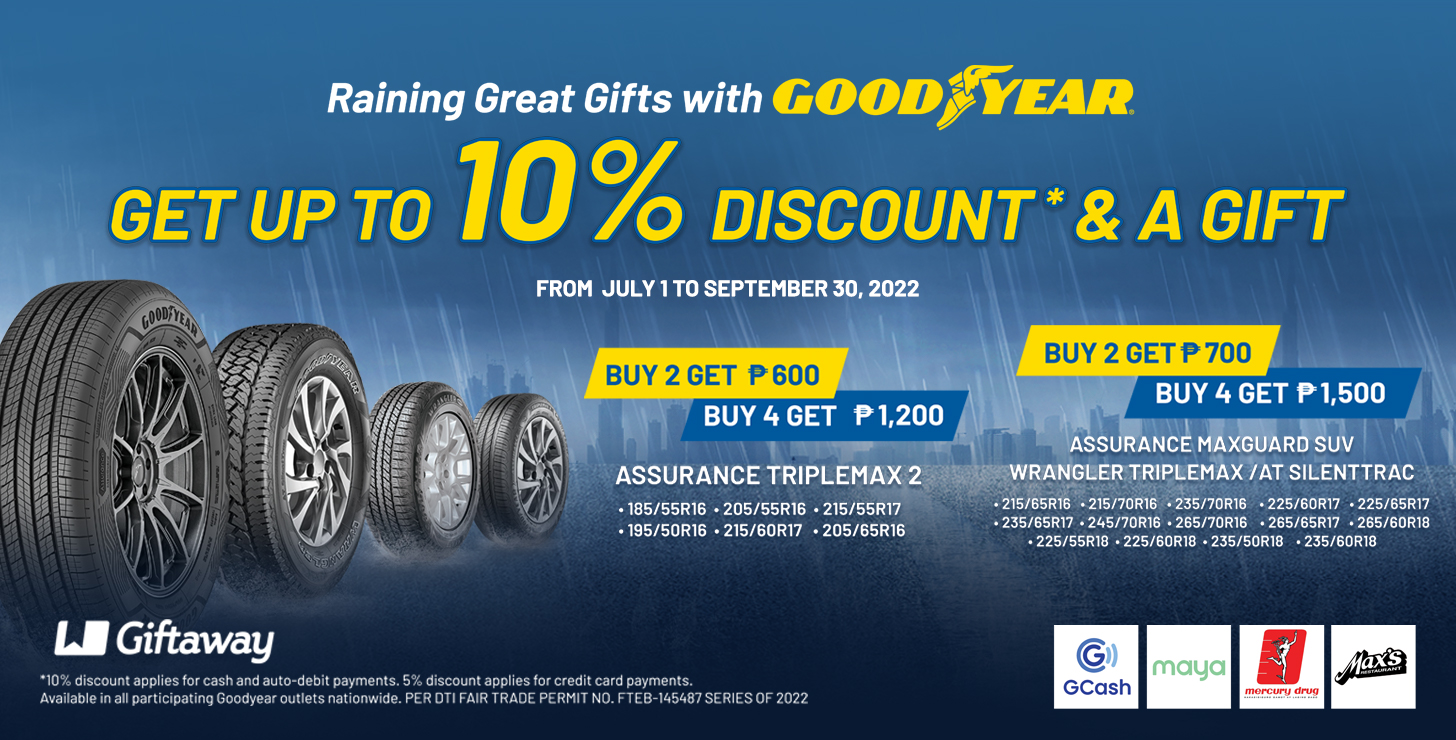 | Dealer Name | Store Name |
| --- | --- |
| Achievers Sales Corporation | Goodyear Autocare - Boni Avenue |
| Antonflash Autocare Center | Goodyear Autocare - Candelaria |
| Autophil Marketing Corporation | Goodyear Autocare - Dimasalang |
| LASS Automotive Corporation | Goodyear Servitek - Naga |
| LASS Automotive Corporation | Goodyear Autocare - Legazpi |
| LNJ Global Trade Inc | Goodyear Autocare - Fairview |
| Marcjan Enterprises | Goodyear Servitek - Aguinaldo Highway Dasma |
| Marcjan Enterprises | Goodyear Autocare - Imus |
| Marcjan Enterprises | Goodyear Autocare - Cavite City |
| Marcjan Enterprises | Goodyear Autocare - Silang |
| Marcjan Enterprises | Goodyear Autocare - Molino |
| Nautical Lubecenter and Car Care Plus | Goodyear Autocare - Calapan |
| SMS Tyre Depot | Goodyear Autocare - San Pablo |
| SMS Tyre Depot | Goodyear Autocare - Lipa |
| Speedy Romblon | Goodyear Autocare - Romblon |
| Sun Master Sales Corporation | Goodyear Autocare - Dalandanan Valenzuela |
| Timog Tirehaus Corporation | Goodyear Servitek - Timog Avenue |
| Cipher Commodities | Goodyear Autocare - North EDSA |
| Sun Dragon Sales Inc. | Goodyear Autocare - Grace Park Caloocan |
| Edia Tire Center | Goodyear Autocare - Dagat dagatan Malabon |
| Clever Auto Care | Goodyear Autocare - San Pedro |
| Tierodman Auto Center | Goodyear Autocare - Cabuyao |
| Antara Ventures | Goodyear Autocare - Sta Rosa |
| Richwell Trading Corporation | Goodyear Servitek - Quezon Avenue |
| F&E Enterprises, Inc. | Goodyear Autocare - Puerto Princesa |
| Megamotion | Goodyear Autocare - Banawe |
| Iron Comet | Goodyear Autocare - GMA Cavite |
| Tyre Station | Goodyear Autocare - Marikina |
| EDC Tyrequest Marketing | Goodyear Autocare - San Nicolas Tarlac |
| EDC Tyrequest Marketing | Goodyear Autocare - San Sebastian Tarlac |
| Efficiens Enterprises | Goodyear Autocare - Gapan |
| S&P Enterprises | Goodyear Autocare - Urdaneta |
| Tire Tropolis Corporation | Goodyear Autocare - Pilar Bataan |
| Huang Laggui Autocare | Goodyear Autocare - Sta Maria |
| PT Diamond Merchandise & Construction | Goodyear Autocare - Baguio |
| Tire City, Inc. | Goodyear Autocare - San Fernando Pampanga |
| R2J Tires Center | Goodyear Autocare - Congressional |
| ADD Sebrag | Goodyear Autocare - Olongapo |
| LP Tirex | Goodyear Autocare - Isabela |
| Jiga Mags & Tire Supply | Goodyear Autocare - Evangelista |
| New Capitol Tire Trading Corporation | Goodyear Autocare - Kapitolyo Pasig |
| New Capitol Tire Trading Corporation | Goodyear Autocare - Ortigas Avenue |
| Tire King & Rubber Products-Antipolo | Goodyear Autocare - Marcos Highway Antipolo |
| Tire King & Rubber Products-Dasma | Goodyear Autocare - Governor's Drive Dasmarinas |
| HH Astro Sales Corporation | Goodyear Servitek - Bacoor |
| HH Astro Sales Corporation | Goodyear Servitek - Las Pinas |
| HH Astro Sales Corporation | Goodyear Servitek - Laoag II |
| Eautotech | Goodyear Autocare - Batangas City |
| Dealer Name | Store Name |
| --- | --- |
| F&E Enterprises, Inc. | Goodyear Autocare - Mandurriao |
| F&E Enterprises, Inc. | Goodyear Autocare - Puerto Princesa |
| F&E (Bacolod), Inc. | Goodyear Autocare - Singcang |
| F&E Capiz Roxas | Goodyear Autocare - Mandurriao |
| F&E Aklan Kalibo | Goodyear Autocare - Mandurriao |
| F&E Iloilo Jalandoni | Goodyear Autocare - Mandurriao |
| F&E San Jose Antique | Goodyear Autocare - Mandurriao |
| Macro Tires, Inc. | Goodyear Autocare - Tipolo Cebu |
| Lithro Tough Ride Tire Trading | Goodyear Autocare - Tacloban |
| EBR Marketing Corporation | Goodyear Autocare - Ormoc |
| EBR SN Tire Plaza | Goodyear Autocare - Maguikay Mandaue |
| Wheelmasters Corporation- Cebu City | Goodyear Autocare - North Reclamation |
| Affinis Corporation | Goodyear Autocare - Lapu Lapu City |
| Dealer Name | Store Name |
| --- | --- |
| Wheelmasters Corporation | Goodyear Autocare - Iligan |
| LCG Marketing | Goodyear Autocare - Cagayan De Oro |
| LCG Marketing | Goodyear Autocare - Pueblo |
| ATA Seaoil Gas Up & Service Center | Goodyear Autocare - Kidapawan |
| Sigma Marketing | Goodyear Autocare - Sinsuat Cotabato |
| Casi Marketing Corporation | Goodyear Autocare - Matina Davao |
| Mike Servitech Corporation | Goodyear Autocare - Lanang Davao |
| Cefalyn Tires & Services Corporation | Goodyear Autocare - Isulan |
| Cefalyn Tires & Services Corporation | Goodyear Servitek - Koronadal |
| Cefalyn Tires & Services Corporation | Goodyear Autocare - General Santos |