Ultimate Road Trip Adventure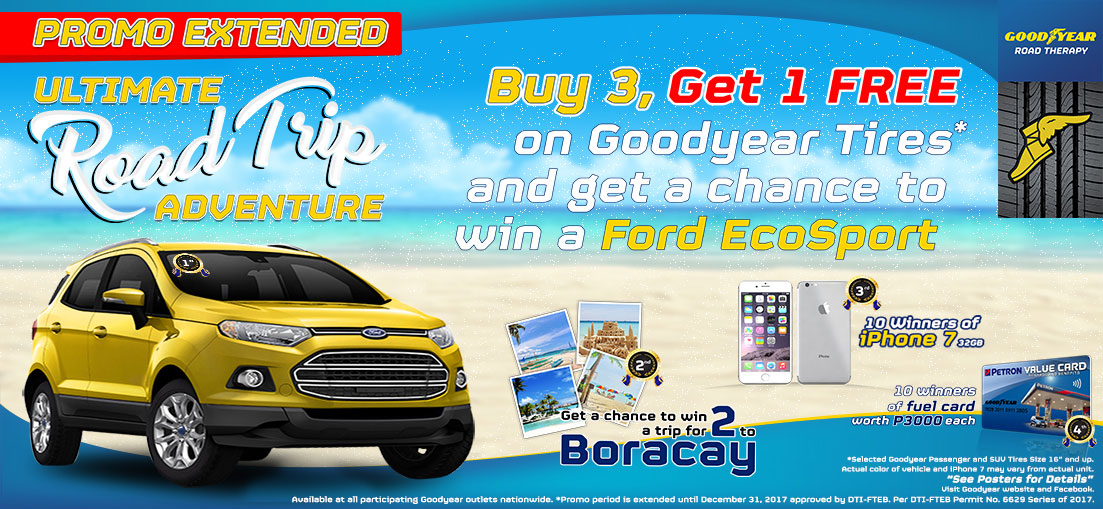 Get a chance to win an Ultimate Road Trip Adventure! Raffle promo is applicable to the all 3+1 or Buy 1 Get 1 at 50% off purchases of Goodyear Tire Patterns sizes rim 16 to rim 20:
Promo mechanics:
This raffle will be drawn electronically and purchase of Goodyear Tires from Rim 16"-up of applicable SKUs from authorized Goodyear Autocare shops is a requirement.
Raffle promo period is from May 1 – December 31, 2017.
This raffle promo is open to all end-customers buying Goodyear tires from Rim 16"-up of selected SKUs from any authorized Goodyear Branded Retail Shops. The SKUs are as follows:
SEGMENT
TIRE PATTERN
COVERED TIRE SIZE
16″
17″
18″
19″
SUV
EfficientGrip SUV
✔
✔
Wrangler AT/SA
✔
✔
Wrangler TripleMax
✔
✔
SPORTS
Eagle F1 Asymmetric 2
✔
✔
✔
Eagle F1 Directional 5
✔
✔
✔
PASSENGER
Assurance TripleMax
✔
✔
Entitlement of raffle entries will be as follows:
TYPE OF PURCHASE
PRODUCT
NO. OF RAFFLE ENTRIES
Buy 1 Get 1 at 50% Off
Selected Rim 16-up
1 Raffle Entry
Buy 3, Get 1 Free
2 Raffle Entries
Upon purchase of the selected Goodyear Tires, the Goodyear Autocare representative will attach together with the Official Receipt/ Sales Invoice the Promo Codes
End-customer needs to register their information with the Activation Keyword on the first part of text message to (Globe/TM) 21589931 or (SMART/TNT/Sun) 29290589931. Detail are as follows:
Activation Keyword
: Goodyear Reg
Registration Information
: (a) Name, (b) Address, (c) Valid e-mail address, (d) Location of Goodyear Autocare shop where tires were bought (e) Original receipt or Sales Invoice number as proof of purchase.
Example:
Goodyear Reg Juan dela Cruz/23 San Antonio St Urdaneta Village Makati/jdc@gmail.com/Goodyear Sucat/24933
Send to:
Globe/TM – 215 899 31
SMART/TNT/Sun – 292 905 899 31
After keying in all important information to the number provided, a reply message will be received by the end-customer. A message will be shown:
"Thank you! You have now been registered to the Goodyear Ultimate Roadtrip Adventure. Please key-in the Promo Code to have a successful registration to the Raffle Promo. Key in
Goodyear tires <Promo Code>
.
Send to
(
Globe/TM) 21589931 or (SMART/TNT/Sun) 29290589931"
Example would be:
Goodyear tires 2AD234
Send to:
Globe/TM – 215 899 31
SMART/TNT/Sun – 292 905 899 31
After the end-customer submits the Promo Code, the system will reply with:
"Thank you! You have earned 2 raffle entries in the Goodyear Ultimate Roadtrip Adventure raffle promo. Promo runs until 31 December 2017. Per DTI ____. WE HAVE THE TIRES. YOU JUST ENJOY THE RIDE."
The electronic raffle draw will be held in the presence of representatives from DTI, a Goodyear Philippines' Leadership Team member. Details of the draw and deadline of submission of entries will be"
DETAILS
DRAW DATE
DEADLINE OF SUBMISSION OF ENTRIES
Grand Raffle Draw
January 14, 2018
December 31, 2017 (11:59PM)
Venue of Raffle
Goodyear Philippines, Inc. (Head Office)
15/F, Picadilly Star Building, 4th Avenue corner 27th Street,
Bonifacio Global City, Taguig City
Prizes will be:
Grand Prize: One (1) Unit Ford Ecosport 1.5 A/T Trend 2017
Second Prize: Trip for 2 to Boracay
Roundtrip airline ticket via Philippines Airlines or Cebu Pacific (with all taxes)
Airport Terminal Fee (where applicable)
Three (3) days, Two (2) nights' accommodation based on Twin sharing on Shangri-La's Boracay Resort and Spa.
Daily breakfast for two (2)
Roundtrip airport-hotel-airport transfers
Third Prize: Ten (10) winners of iPhone 7
Fourth Prize: Ten (10) winners of Fuel Card worth P3,000
Winner can only win once. If a name wins more than once, he/she gets the bigger prize. The Twenty percent (20%) tax of prizes, exceeding P10,000.00 and other expenses that will be included in relation to the prize shall be shouldered by the winner.
Winners will be validated against Goodyear Autocare shop where the tires were purchased and the e-raffle supplier's record. If a drawn entry was deemed not qualified, another winner will be drawn.
Winners will be notified by registered mail. The list of winners will also be posted on Goodyear Facebook fanpage and Goodyear Philippines website.
Prizes must be claimed within sixty (60) calendar days from the receipt of Goodyear Philippines notification. Otherwise, prizes shall be forfeited and retained by Goodyear Philippines with prior DTI approval.
Prizes are not convertible to cash but transferable.
Prizes should be claimed at Goodyear Philippines Inc. head office for Metro Manila and Luzon winners or any Goodyear Branded Retail stores in the province.
Winners must present the following when claiming their prize: (a) Valid ID (e.g., any government-issued ID or company ID); (b) notification letter from Goodyear Philippines (received via registered mail); (c) SMS reply of the confirmation number.
An authorized representative may also claim in behalf of the winner provided he/she presents the following: (a) representative's valid ID; (b) valid ID/s of winner/s; (c) notification letter from Goodyear Philippines; (d) SMS reply of the confirmation number; and (e) authorization letter signed by the winning client/s
Winners authorize Goodyear Philippines to disclose and publish their names, photos and other particulars determined by Goodyear Philippines to any person/s and in any mode or manner as may deem appropriate.
All Goodyear Philippines Inc. employees, owners, and operators of Goodyear Branded Retail Stores and Distributors including their relatives up to the second degree of consanguinity or affinity are disqualified from joining this promo
Goodyear Philippines Inc.'s decision, in concurrence with DTI, regarding the Promo will be deemed final and non-negotiable.
Terms and conditions of this Promo are subject to all the relevant laws, government directions and regulations existing in the Philippines.
Promo Duration: May 1 – December 31, 2017