GOODYEAR AUTOCARE WINS GOLD IN THE 2021 READER'S DIGEST QUALITY SERVICE AWARDS
05 May 21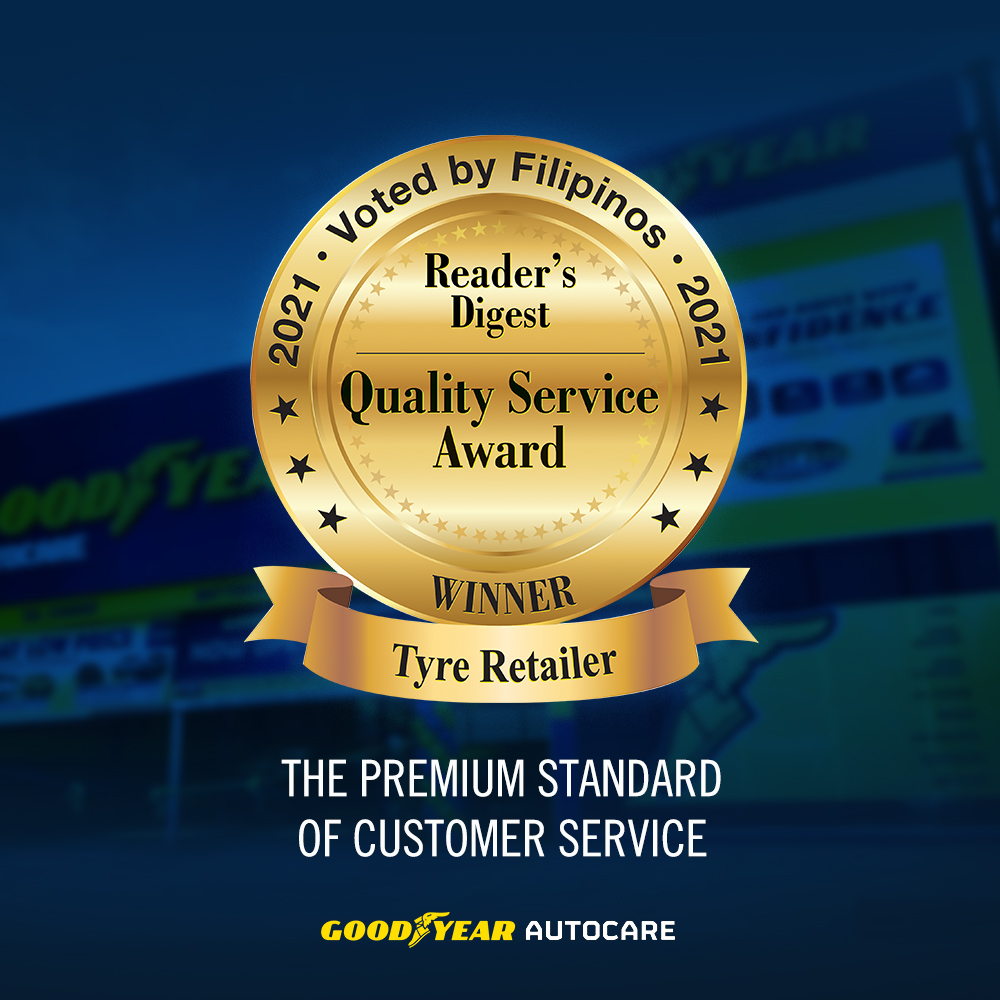 Philippines, May 2021 – Goodyear announced today that the Goodyear Philippines, Inc.  (GYP) retail and service center Goodyear Autocare was recently hailed as the Gold winner of the 2021 Reader's Digest Quality Service Award under the tire retailer category, highlighting the commitment and dedication of Goodyear Autocare's dealership network in delivering the best level of service to its valued customers.
This award is extremely significant as it proves Goodyear Autocare stores' progress over the course of the past year, as last year, Goodyear Autocare was recognized with a Silver award.
With an extensive dealership network of over 100 stores nationwide, Goodyear Autocare stores offer one-stop quick automotive services. As an example, in 2020, Goodyear Autocare implemented a Zero Contact Policy in response to the threat of the COVID-19, and as a means to adapt to the new normal presented by the global pandemic. The Policy aims to ensure the health and safety of valued customers and associates by minimizing direct contact.
Susi Gamers, Market Director Philippines, Vietnam, Singapore & Export Markets, commented: "We at Goodyear Philippines are delighted to receive the highest customer service rating and win the Gold Award in the 2021 Reader's Digest Quality Service Awards in the Tire Retailer category."
 "This Gold Award validates the hard work and innovation on our services of our team over the past year, and we credit this win to the relentless efforts of our dealers and partners in the Goodyear Autocare business. We also extend our gratitude to our valued customers for their unrelenting patronage and trust to Goodyear. As we embrace the new normal, we continue to strive to ensure that we deliver the highest satisfaction to our customers in terms of our tires and services," she added.
The Reader's Digest Quality Service Awards (QSA) is an independent gauge of how customer service is fairing in the Philippines, Singapore, and Malaysia, recognizes those businesses that delivered customer excellence over the previous 12 months. Consumers vote to determine which brands from different categories provided the highest level of customer service. Personalization, understanding, simplicity, satisfaction, and consistency are the five key pillars that this survey addresses in to define scores.
To view the list of Goodyear Autocare stores check-out this link: https://www.goodyear.com.ph/store.