GOODYEAR PHILIPPINES WINS PLATINUM IN THE 2021 READER'S DIGEST TRUSTED BRAND
22 Jun 21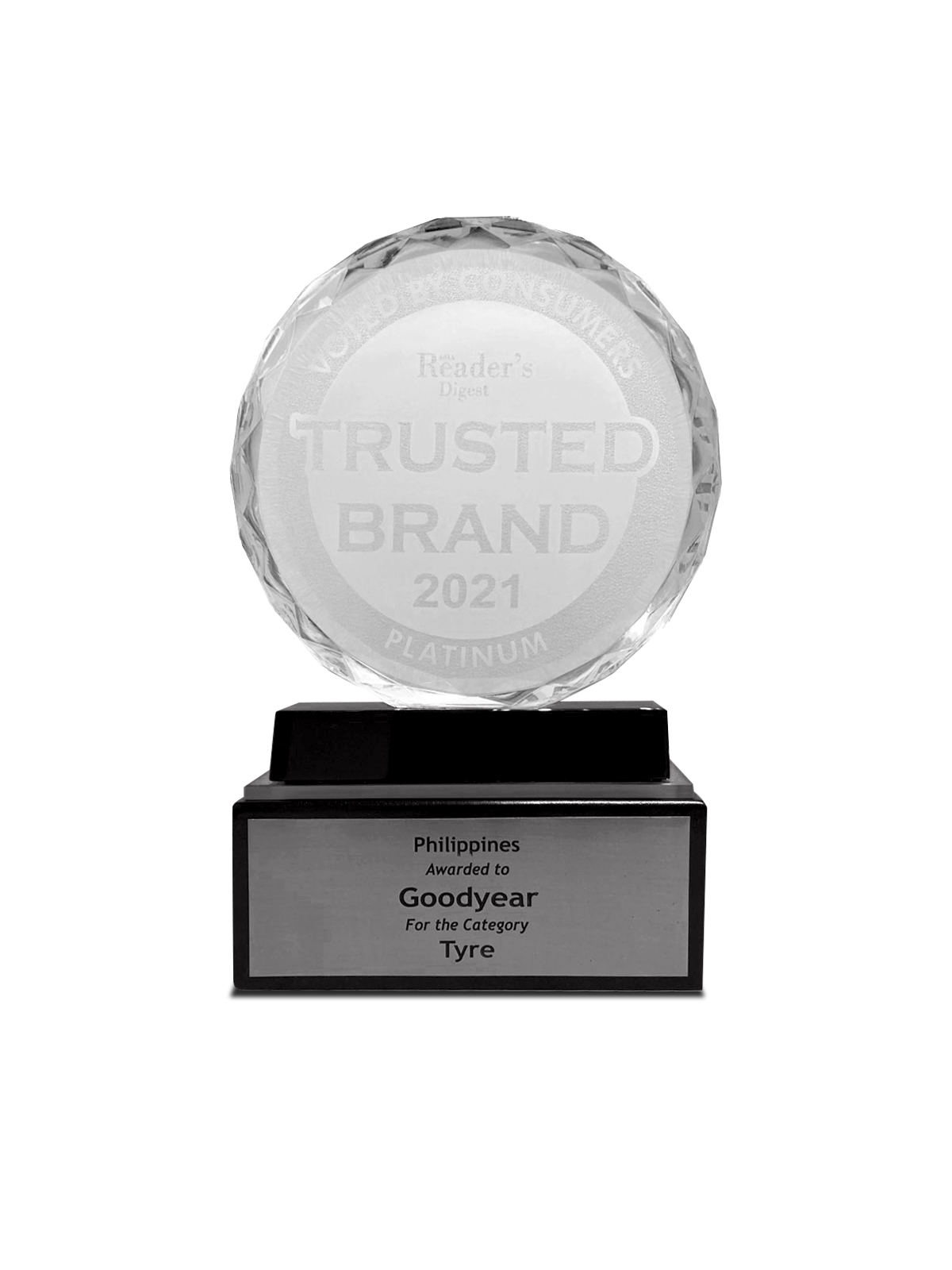 Philippines, June 2021 – The Goodyear Tire & Rubber Company is pleased to announce that Goodyear Philippines, Inc.  (GYP) is the Platinum Awardee of the Reader's Digest Trusted Brand 2021 under the Tire Category.
GYP takes pride in receiving the highest recognition as the Platinum Awardee in this year's Reader's Digest Trusted Brand. With over a century of operations in the country, Goodyear has established a strong brand presence by offering innovative, quality, and reliable tires and services. Over the years, GYP strives to earn the trust and confidence of its most valued customers by offering technologically advanced and sustainable products. These are highlighted in the features and benefits that Goodyear tires present. A variety of patterns and sizes are available to respond to the diverse needs of the market. GYP is also an advocate of road safety and social responsibility.
Susi Gamers, Market Director Philippines, Vietnam, Singapore & Export Markets, commented: "We at Goodyear Philippines are truly honored to earn the Platinum Award in the 2021 Reader's Digest Trusted Brands Awards in the Tire category." "We dedicate this award to our customers and the community who have been our inspiration in striving to be the most valued tire brand. For 123 years, Goodyear has been a brand that continues to innovate and offer more value to its consumers. Apart from offering the usual manufacturer's warranty to our product, we backed this up by giving more to our customers such as the Worry Free Assurance providing vast benefits such as Roadside Assistance, Personal Accident Insurance, and Road Hazard Protection that only the Goodyear brand has. We continue to make our brand even more valuable by taking good care of our customers and the society as well and by offering more " she added.
The Trusted Brand Award is an independent research conducted by Reader's Digest to know which brands are important to consumers. For 23 years Reader's Digest has confidently scrutinized what features must a brand possesses to maintain its relevance and purpose to consumers. This research is conducted in Asia including the Philippines. Consumers are asked to rank the brands based on these six attributes: trustworthiness and credibility, quality, value, understanding of customer needs, innovation, and social responsibility.
About The Goodyear Tire & Rubber Company
Goodyear is one of the world's largest tire companies. It employs about 72,000 people and manufactures its products in 54 facilities in 23 countries around the world. We strive to develop state-of-the-art products and services that set the technology and performance standard for the industry. For more information about Goodyear and its products, go to www.goodyear.com/corporate.
About Goodyear Philippines, Inc.
Goodyear Philippines started in 1919 and throughout the century Goodyear has become a leader in the Philippine tire industry with its forward-thinking innovation that can be seen in the company's portfolio of high-performance passenger and commercial tires and services. With the widest dealership network in the country, consisting of more than 100 dealer partners nationwide, the company is redefining the industry to make Goodyear the number one choice for Filipino motorists who value high-performance, reliability, and safety. For more information about Goodyear Philippines and its products, go to https://www.goodyear.com.ph/.