Goodyear Honors Courageous Highway Heroes
16 Apr 13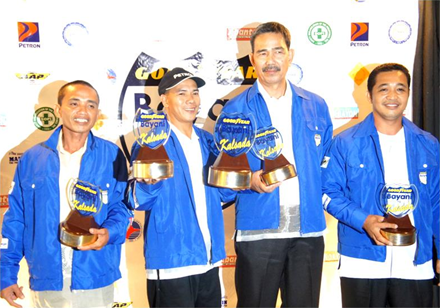 Christopher M. Fonclara (2nd from right), a tricycle driver from Iloilo City, was hailed National Champion of the 2012 Goodyear Philippines Bayani ng Kalsada Awards held March 20 in Manila. He was also awarded as Regional Champion for Visayas alongside fellow Regional Champions (from left) Roel P. Limen (Mindanao), Glenn Arcillia (Luzon), and Rolando B. Carullo (NCR).
March 21, 2013 — Goodyear Philippines has awarded five outstanding motorists for having demonstrated heroism on the road that benefited strangers at the 6th Annual Bayani ng Kalsada Awards Celebration held at the Hotel Sofitel Philippine Plaza, Manila on March 20.
Tricycle driver Christopher M. Fonclara of Iloilo City ran away with the top award and a total of Php 80,000 in cash as this year's Bayani ng Kalsada National Champion. Christopher Fonclara was also hailed Bayani ng Kalsada Regional Champion for Visayas alongside fellow Regional Champions Glenn Arcillia (Luzon), Rolando B. Carullo (NCR), and Roel P. Limen (Mindanao).  Regional Champions each received Php 30,000 in cash from Goodyear and gift packages from Centro Negosyo and Petron. Additionally, Dr. Lorraine Marie Badoy of Makati City also received a 'special award' and recognition.
Also awarded as finalists at the ceremony were Junar Obiena Jacosol, John Christopher Reyes King (NCR); Jessbill Nada Navarite, Richmond Gallego Valdez (Luzon);  Rener Avila Alemios, Arel Ledesma Naldoza (Visayas); Ramil Andao Teh, and Pilardo Espiritu Delos Reyes (Mindanao).
"Each of the 2013 Bayani ng Kalsada finalists is a true hero, and their efforts to help others should be applauded," said Goodyear Philippines Managing Director Ron Castro.
"Safety is a core value of Goodyear and at the heart of everything we do, so we are proud to help recognize these individuals publicly for their selfless acts in helping keep others safe on the road.
"Bayani ng Kalsada is one way that Goodyear, along with our valued partners in the program, is highlighting the importance of road safety and that it is everyone's responsibility."
From Public Utility Vehicles Drivers to Heroes of the Road
The 2012-2013 Bayani Ng Kalsada winners are brave and selfless public transportation drivers who went beyond just safely getting passengers to their destinations.
National winner and Visayas Regional Champion Christopher Fonclara rushed four wounded victims of a collision between a truck and tricycle on an Iloilo City thoroughfare to the nearest hospital in his tricycle one victim at a time, beginning with the most seriously wounded. Two of the victims survived thanks to his efforts.
Taxi driver Glenn Arcillia, Regional Champion for Luzon assisted a couple who were shot by two men on a motorcycle, rushing them to Medical City in Metro Manila. The wife survived the shooting as a result of Arcilla's assistance. Unfortunately, her husband was declared dead on arrival.
NCR winner Rolando Carullo was driving his jeepney along the service road when he came across a child gasping for breath by the roadside. He politely asked his passengers to give way to the child and his parent as he rushed them to the Taguig Pateros Hospital without asking for payment.
Jeepney driver Roel Limen, Mindanao Regional Champion, drove a woman who was having a heart attack to the emergency room of the General Hospital in Zambowood, Zamboanga City, and waited to drive her home once she was released.
Dr. Lorraine Marie Badoy of Metro Manila was also recognized with a 'special award' for assisting a stranger who was having a heart attack by rushing him to the Makati Medical Center emergency room in Makati City where he was given immediate attention. Unfortunately, the victim did not survive his massive heart attack.
Bayani ng Kalsada is Goodyear's annual nationwide search for Filipino drivers of public utility vehicles (jeepneys, buses, trucks, taxis, tricycles, FX service vehicles,) trucks or private cars, who demonstrate courage, sacrifice and concern for others through selfless heroic acts. Bayani ng Kalsada continues to highlight everyday highway heroes to promote safety on the road.
For more information, follow the Bayani ng Kalsada page in Facebook (www.facebook.com/bayaningkalsada) or call 8884737 (88-TIRES).