Goodyear kick-starts celebration of 100 years in the Philippines
30 Jan 19
Iconic tire brand commemorates a legacy of excellence and safety innovation
 January 30, 2019 – Goodyear Philippines, a leader in the tire industry, is celebrating its centenary in the country this 2019. With the theme "100 years of Driving Filipino Innovation Forward," Goodyear Philippines will be mounting exciting year-long activities for Filipino drivers and families to commemorate this milestone occasion, even as it continues to deliver on its promise of providing high quality tires for a safer driving experience for everyone.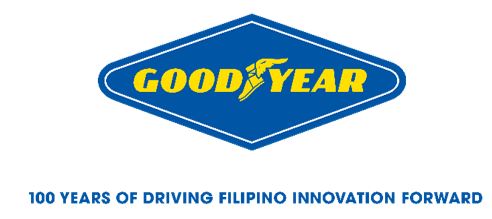 100 Years of Safety Innovation  Established in 1919, Goodyear Tire and Rubber Company of Akron, Ohio started the operations in the country that later changed the motoring scene by providing superior quality tires in the market. The Philippines, then served as the central warehouse facility for China, Japan, Indonesia, and other Far East territories. In 1956, another milestone was achieved when Goodyear Philippines invested in building a $12-million plant in Las Piñas. The same year also marks the first tire produced, the 6.00-16 6PR that was developed for the iconic Philippine jeepneys – a product that was proudly presented to the former President Ramon Magsaysay.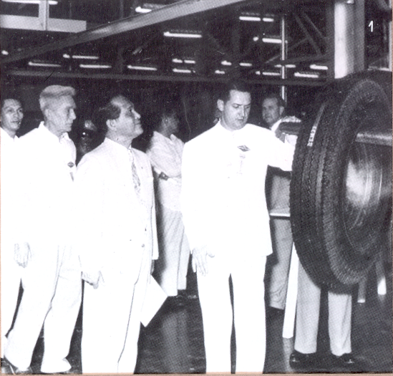 Inauguration of Goodyear Philippines in Las Piñas on October 1956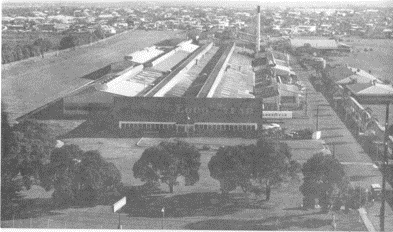 Goodyear Philippines Las Piñas plant
One of the first exclusive Goodyear dealerships taken in 1974
After 30 years, Goodyear Philippines celebrated a manufacturing milestone together with the launch of Wide Grip 65, a highly acclaimed passenger tire as it is the first and only 65 aspect ratio tire in the country. Goodyear Philippines continued to launch numerous product innovations that will help revolutionize the tire industry. During these years, the Goodyear brand continued to dominate the tire industry with its best-in-class tire patterns and sizes suitable for the local needs of the market.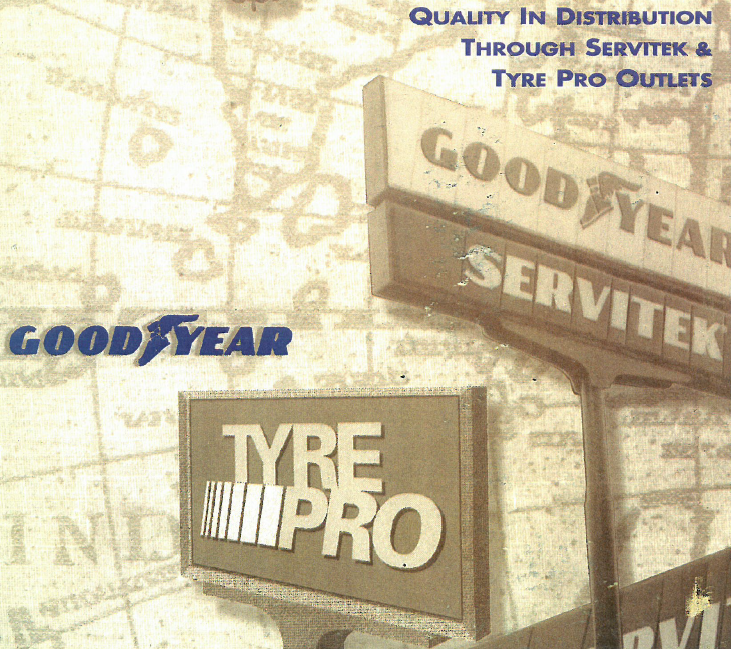 In 1999, Goodyear had over 55 Servitek and 37 Tyre Pro outlets nationwide
In order to complement its innovative products, Goodyear decided to rebrand and relaunch a modern retail format for its service centers. In 2016, the Goodyear Autocare service center was introduced to the public and to date, serves as the after-warranty, quick-service center for discerning customers who value quality tires and quality service.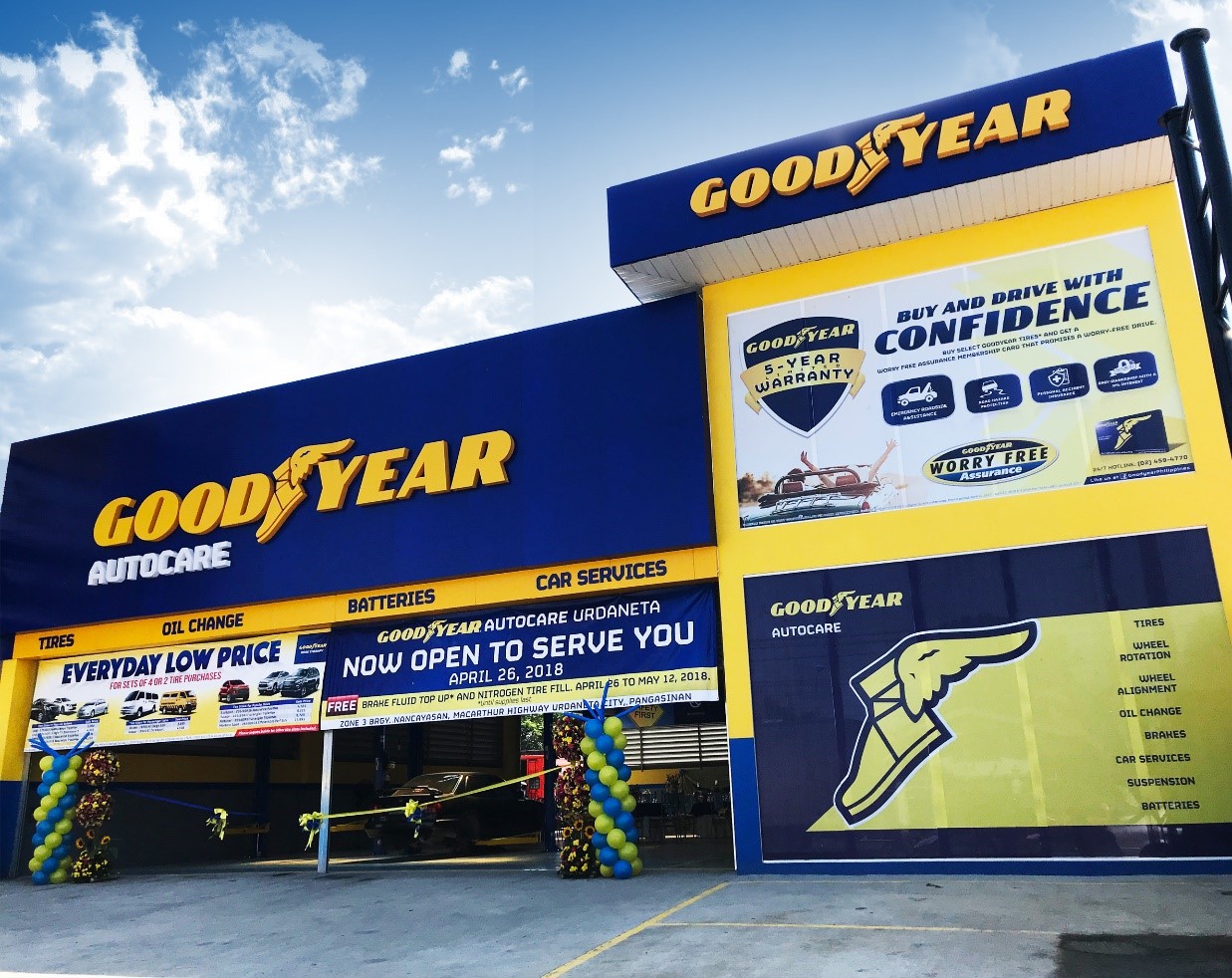 The new modern retail format of the Goodyear Autocare service center with over 100 outlets nationwide.
On the same year, the Wrangler TripleMax was released and impressed mid-sized SUV enthusiasts with its superior wet braking performance offering peace of mind and a safer driving experience even on wet roads.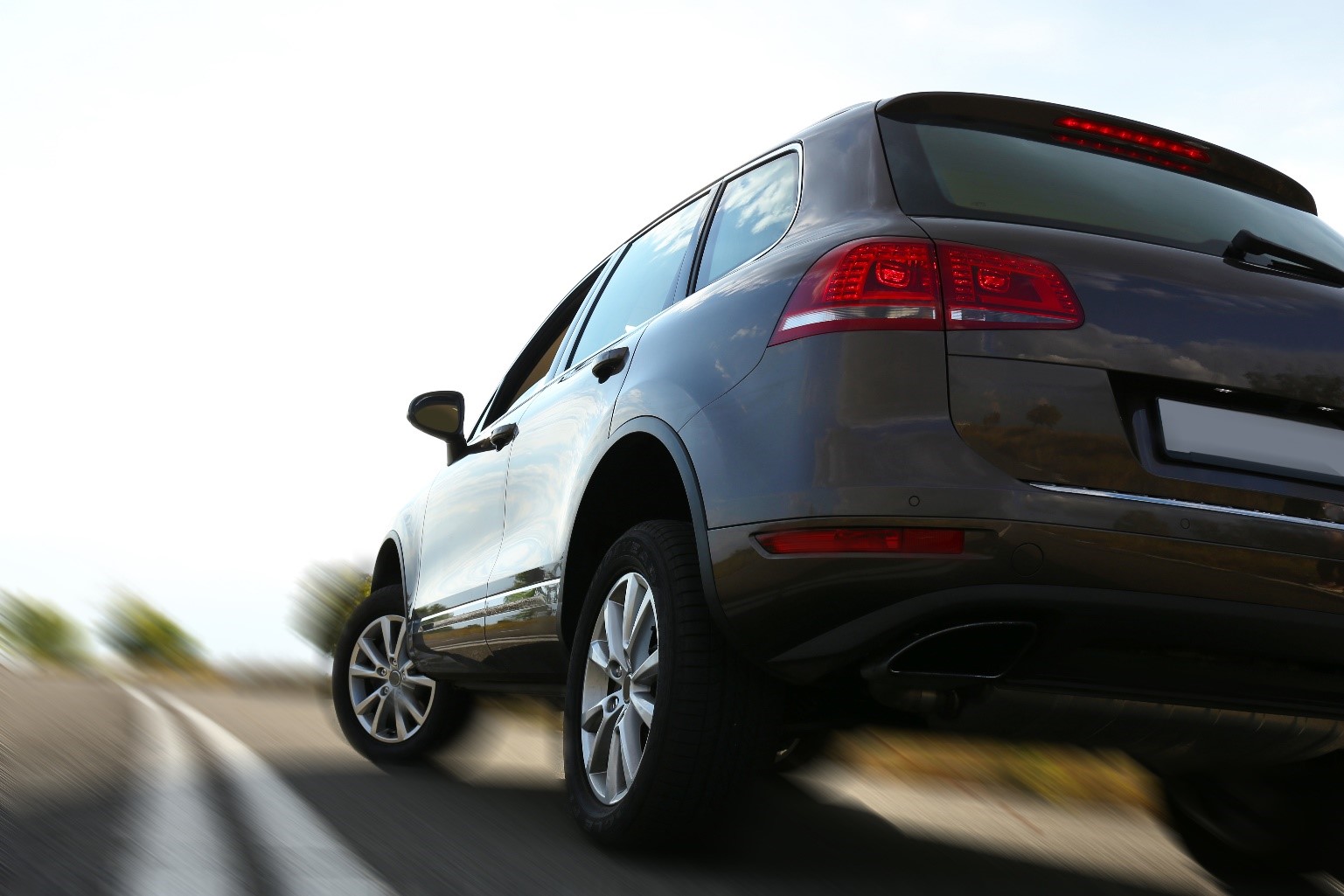 Goodyear Philippines launched the Wrangler TripleMax last August 2016 designed for mid-sized SUVs
2017 was a busy year for Goodyear Philippines as it released the EfficientGrip Performance SUV, which was dubbed as the quietest SUV tire. With its QuietTred Technology, road noise and vibrations are minimized, giving the driver superior comfort and grip experience. Additionally, it also introduced to the market the Wrangler All-terrain range imported from North America. The Wrangler MT/R with Kevlar, Wrangler Duratrac and Wrangler All-Terrain Adventure which boast of off-road and on-road capabilities that's best suitable to the adventurous off-roader.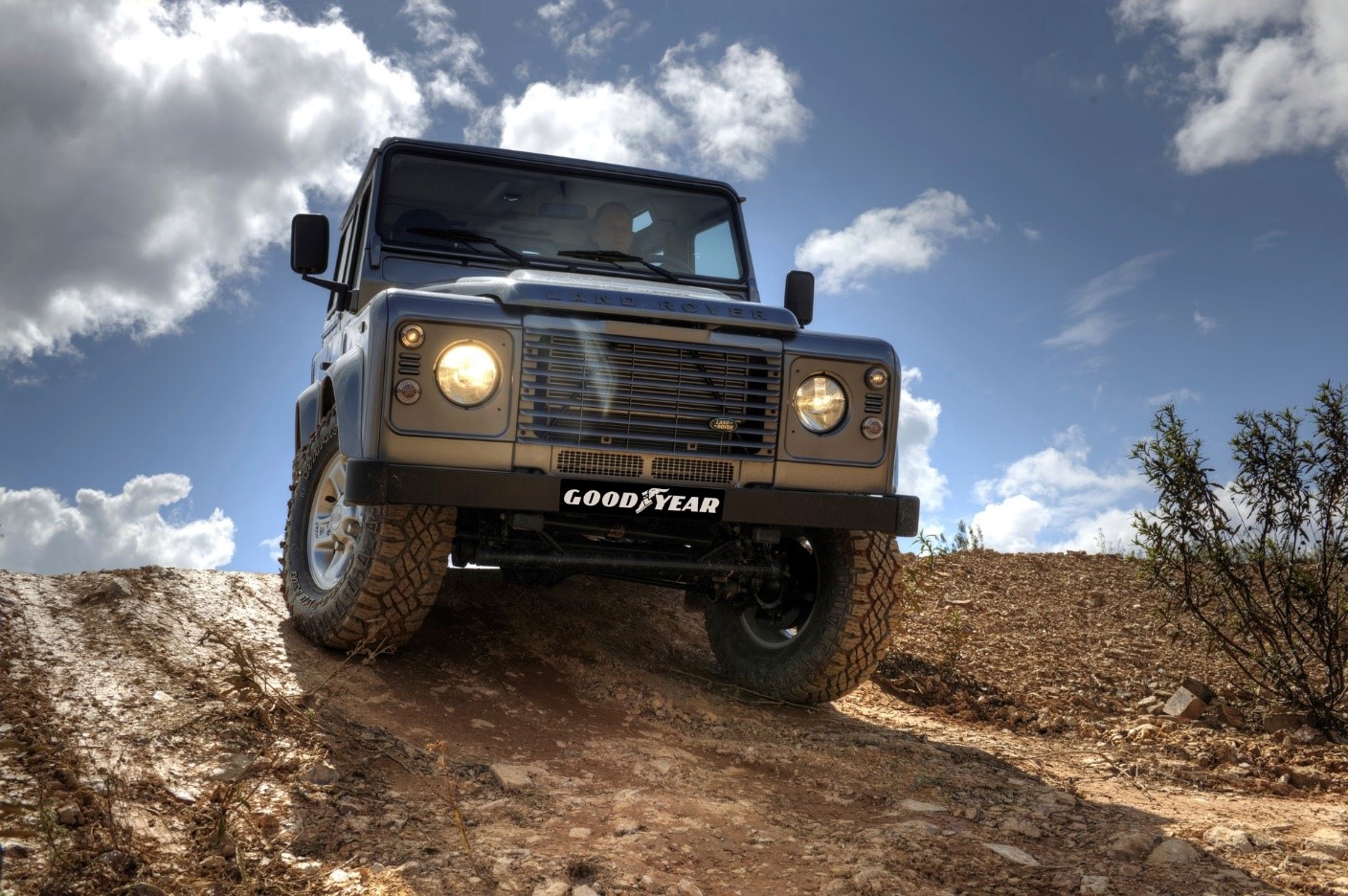 In November 2017, Goodyear Philippines launched four SUV tires; EfficientGrip Performance SUV, Wrangler All-Terrain Adventure, Wrangler Duratrac and Wrangler MT/R with Kevlar.
One of the highlights of 2017 was the launch of the first and most comprehensive warranty coverage of Goodyear Philippines, the Worry Free Assurance program. It features free 24/7 emergency roadside assistance service for any vehicular inconvenience, personal accident insurance and road hazard warranty.
Goodyear Philippines, together with its partners, launched the Goodyear Worry Free Assurance program last May 2017.
And last year, Goodyear Philippines launched Assurance TripleMax 2, Goodyear's latest product innovation. It is equipped with the new HydroTred Technology, which is optimized for excellent grip performance with short braking distance under wet road conditions. This allows drivers to stop faster and drive safer especially on wet roads.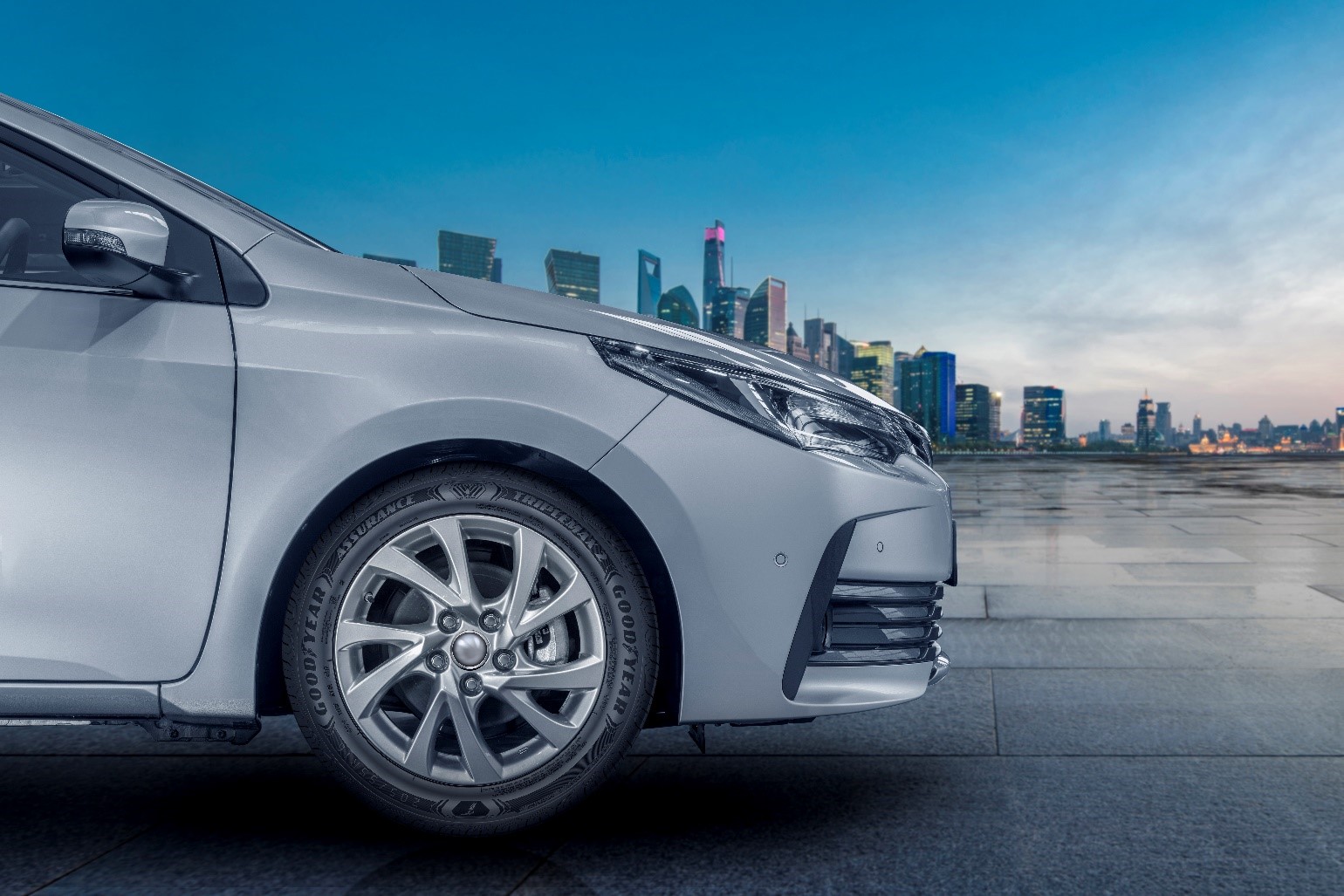 Together with the 120th year anniversary of Goodyear Global, Goodyear Philippines launched the Assurance TripleMax 2 last August 2018.
The Future of Goodyear Philippines is Now With 100 years of driving tire innovation and safety in the Philippines, Goodyear has had a great impact on the Filipino driving experience, both on the road and off, and is looking forward to celebrating its 100th anniversary in the country. "From 1919 up to the present, Goodyear has delivered products that have raised the bar when it comes to mobility and tire technology, making the driving experience safer and more comfortable for Filipino families. We have been witness not only to the growth of the tire and car industry, but also to how driving has helped Filipino families move forward – from the everyday drive to off-road adventures, to road trips that allow families to create their own milestones," said Alex Ng, Market Director of Goodyear in the Philippines, Singapore, Taiwan, Hong Kong and Distributor Markets. "This 2019, we plan to give back the loyalty and support to our beloved customers and to our Goodyear associates by celebrating this milestone together. At the same time, we also want to invite new drivers to discover what Goodyear has to offer. We have a lot in store for everyone, as we plan to offer a variety of promotions that will highlight our 100th year," Ng shared. Goodyear Philippines looks forward to launching new products that will usher a new benchmark in tire safety and innovation during this milestone year. To service its customers, Goodyear Philippines continues to have the largest network of tire retailers and Goodyear Autocare outlets nationwide and is committed towards the expansion of its retail footprint with more than 100 Goodyear Autocare outlets to date. Goodyear is also focused on further improving its after-sales service through continuous certification programs to its technicians, state-of-the-art facilities, and an enhanced overall customer experience. With more activities lined up for their 100th anniversary and the launch of new and advanced products suited to move Filipino drivers and families, this year is bound to be a memorable one for Goodyear Philippines and its customers. For more information on the celebration of Goodyear's 100 years in the Philippines, Goodyear invites you to visit their Facebook page at www.facebook.com/GoodyearPhilippines or their website at www.goodyear.com.ph