Promo Mechanics:
Program duration will be from February 1 – July 31, 2023 only.
Caltex StarCard holders to present their Caltex Starcard to GYAC stores.
Customers are entitled to a minimum of 5% discount on select patterns.
Existing national sell-out promo discounts and egifts will prevail for select sizes and patterns.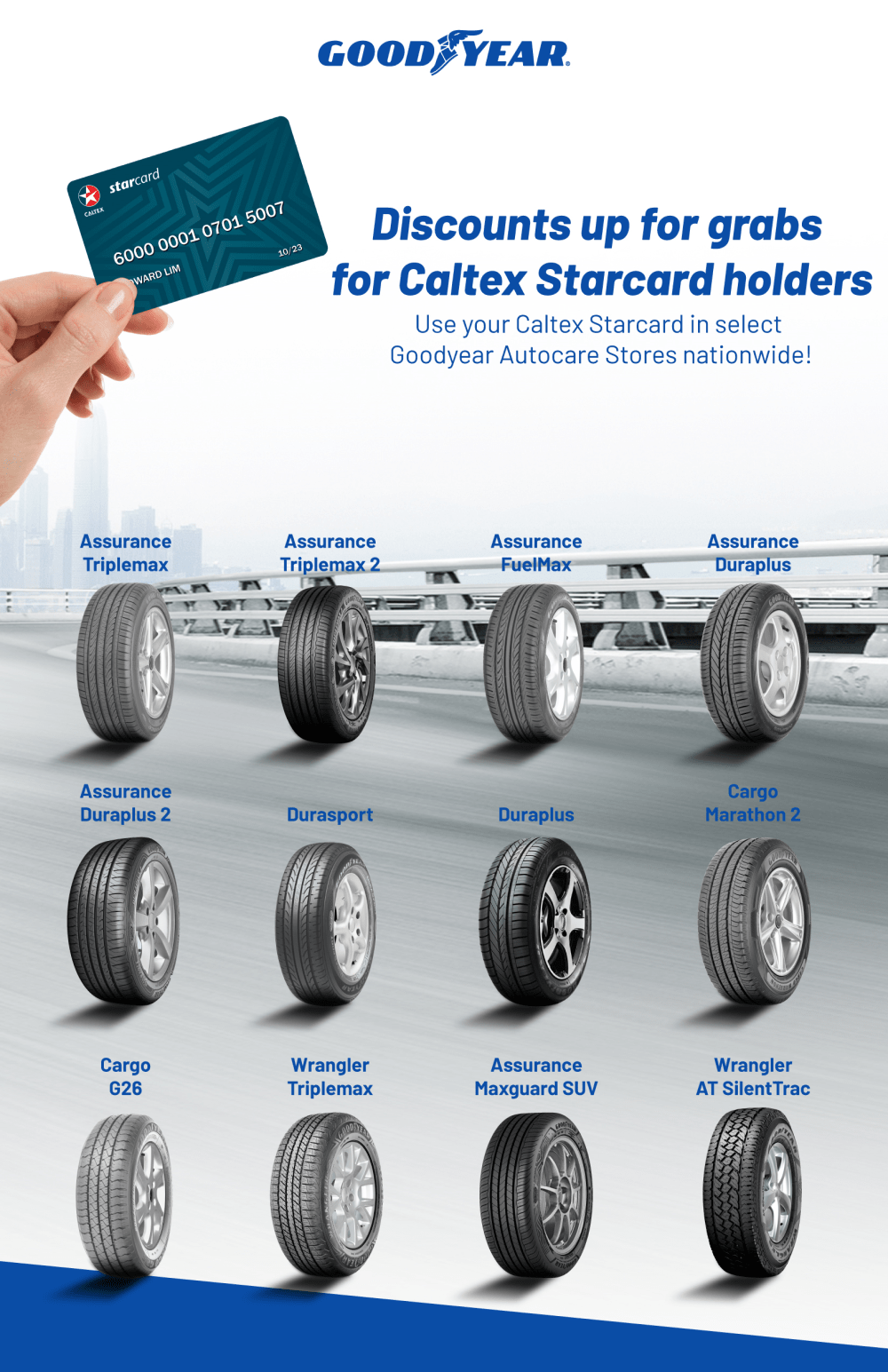 | Dealer Name | Store Name |
| --- | --- |
| EDC Tyrequest Marketing | Goodyear Autocare - San Nicolas Tarlac |
| EDC Tyrequest Marketing | Goodyear Autocare - San Sebastian Tarlac |
| Efficiens Enterprises | Goodyear Autocare - Gapan |
| Grupo Uvero Inc. | Goodyear Autocare - Marilao |
| Huangg-Laggui | Goodyear Autocare - Sta Maria |
| LP Tirex Marketing | Goodyear Autocare - Ilagan |
| LP Tirex Marketing | Goodyear Autocare - Cauayan |
| Northern Transport Systems Trading Corp. | Goodyear Autocare - Vigan |
| PT Diamond Merchandise & Construction | Goodyear Autocare - Baguio |
| Royal Class Corporation | Goodyear Autocare - Santiago |
| S&P Enterprises | Goodyear Autocare - Urdaneta |
| Tire City, Inc. | Goodyear Autocare - San Fernando Pampanga |
| Tire Factors Corporation | Goodyear Autocare - San Fernando La Union |
| Tire Tropolis Corporation | Goodyear Autocare - Pilar Bataan |
| Add Sebrag | Goodyear Autocare - Upper Kalaklan Olongapo |
| Dealer Name | Store Name |
| --- | --- |
| Antara Ventures | Goodyear Autocare - Sta Rosa |
| Antonflash Autocare Center | Goodyear Autocare - Candelaria |
| Clever Auto Care | Goodyear Autocare - San Pedro |
| E Auto Tech Car Care Center | Goodyear Autocare - Batangas City |
| Incredible Comet Tires and Auto Services | Goodyear Autocare - Carmona |
| Iron Comet | Goodyear Autocare - GMA Cavite |
| LASS Automotive Corporation | Goodyear Servitek - Naga |
| LASS Automotive Corporation | Goodyear Servitek - Legazpi |
| Marcjan Enterprises | Goodyear Servitek - Salitran |
| Marcjan Enterprises | Goodyear Autocare - Imus |
| Marcjan Enterprises | Goodyear Autocare - Cavite City |
| Marcjan Enterprises | Goodyear Autocare - Silang |
| Marcjan Enterprises | Goodyear Autocare - Molino |
| Nautical Lubecenter and Car Care Plus | Goodyear Autocare - Calapan |
| Smartinfo Philippines | Goodyear Autocare - Binan |
| SMS Tyre Depot | Goodyear Autocare - San Pablo |
| SMS Tyre Depot | Goodyear Autocare - Lipa |
| Speedy Car Care | Goodyear Autocare - Calatrava Romblon |
| Tierodman Auto Center | Goodyear Autocare - Cabuyao |
| Tire King & Rubber Products-Dasma | Goodyear Autocare - Governor's Drive Dasmarinas |
| Dealer Name | Store Name |
| --- | --- |
| Achievers Sales Corporation | Goodyear Autocare - Boni Avenue |
| Autophil Marketing Corporation | Goodyear Servitek - Dimasalang |
| Cipher Commodities | Goodyear Autocare - North EDSA |
| CJ Automotive Parts Service, Inc. | Goodyear Servitek - Vito Cruz Extension |
| Edia Tire Center | Goodyear Autocare - Dagat-Dagatan Malabon |
| Jiga Mags & Tire Supply | Goodyear Autocare - Evangelista |
| LNJ Global Trade Inc | Goodyear Autocare - Fairview |
| Mega Motion Work, Inc. | Goodyear Autoocare - Otis |
| Mega Motion Work, Inc. | Goodyear Autocare - Banawe Sto Domingo |
| New Capitol Tire Trading Corporation | Goodyear Autocare - Kapitolyo Pasig |
| New Capitol Tire Trading Corporation | Goodyear Autocare - Ortigas Avenue |
| R2J Tires Center | Goodyear Autocare - Congressional |
| Richwell Trading Corporation | Goodyear Servitek - Quezon Avenue |
| Sun Dragon Sales Inc. | Goodyear Autocare - Grace Park Caloocan |
| Timog Tirehaus Corporation | Goodyear Servitek - Timog Avenue |
| Tire King & Rubber Products-Antipolo | Goodyear Servitek - Marcos Highway Antipolo |
| Dealer Name | Store Name |
| --- | --- |
| BGY Enterprises, Inc. | Goodyear Autocare - Tagbilaran |
| F&E (Bacolod), Inc. | Goodyear Autocare - Singcang |
| F&E Enterprises, Inc. | Goodyear Autocare - Ledesma |
| F&E Enterprises, Inc. | Goodyear Autocare - Kalibo |
| F&E Enterprises, Inc. | Goodyear Autocare - Mandurriao |
| F&E Enterprises, Inc. | Goodyear Autocare - Roxas |
| F&E Enterprises, Inc. | Goodyear Autocare - Puerto Princesa |
| Macro Tires, Inc. | Goodyear Autocare - Tipolo Cebu |
| ML Inc. | Goodyear Autocare - Capitol Shopping Center |
| ML Inc. | Goodyear TyrePro - Sibulan |
| New Bian Yek Commercial, Inc. | Goodyear Autocare - Dumaguete |
| Uy Marketing Enterprises | Goodyear Autocare - Jaro |
| Uy Marketing Enterprises | Goodyear Autocare - Aquino Drive Iloilo |
| Dealer Name | Store Name |
| --- | --- |
| ATA Seaoil Gas Up & Service Center | Goodyear Autocare - Kidapawan |
| Casi Marketing Corporation | Goodyear Autocare - Matina Davao |
| Cefalyn Tires & Services Corporation | Goodyear Servitek - Koronadal |
| Cefalyn Tires & Services Corporation | Goodyear Autocare - General Santos |
| Cefalyn Tires & Services Corporation | Goodyear Autocare - Isulan |
| Fast Tires & Autocare Services | Goodyear Autocare - Pagadian |
| Investiture Corporation | Goodyear Autocare - Bacaca Road |
| Mike Servitech Corporation | Goodyear Autocare - Lanang Davao |
| Mike Servitech Corporation | Goodyear Autocare - Poblacion Davao |
| Power Up | Goodyear Autocare - Tagum City I |
| Power Up | Goodyear Autocare - Chavez Davao |
| Sigma Marketing | Goodyear Autocare - Senior Cotabato |
| Sigma Marketing | Goodyear Autocare - Sinsuat Cotabato |
| LCG Marketing | Goodyear Autocare - Pueblo |
| LCG Marketing | Goodyear Autocare - Cagayan De Oro |