Goodyear Wrangler AT SilentTrac
Enjoy the Quiet. Conquer the Tough.

The Wrangler AT SilentTrac equipped with DuraWall Technology for superior off-road durability with extended mileage and quiet performance for on-road driving.
Goodyear Wrangler AT SilentTrac is a rugged tire for off-road driving with the quiet performance for on-road driving giving SUV and pick-up truck drivers the best of both worlds.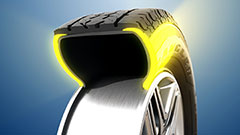 DuraWall Technology
The improved DuraWall Technology features a tough sidewall with thicker gauge and robust compound that provides greater resistance to cuts and punctures with high abrasion and tear resistance for off-road usage.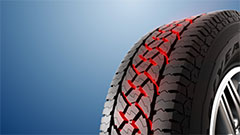 Angled Block Design
The aggressive traction blocks are angled for a progressive impact to lower pattern noise.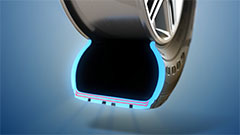 Thicker Rubber Layer Under Tread to Absorb Vibration
Thicker rubber layer under tread softens contact with the road and reduces noise.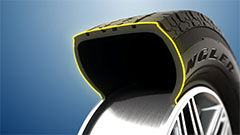 Optimized Cavity Shape
Delivers an enhanced contact patch allowing the load to be evenly distributed for more even wear.

*The testing data is according to Goodyear internal test at Luxembourg, Mireval France, and San Angelo US testing centers in 2018. Testing size: 245/70R16 111T XL. Actual mileage/ performance may vary due to factors including but not limited to type of terrain, quality of roads, vehicle type and condition, tire pressure and maintenance, climate, driving styles, usage patterns, etc. All tyres are manufactured and sold as per applicable BIS Standards.

| Rim | Size | CAR FITMENTS |
| --- | --- | --- |
| 15" | 225/75R15 | Toyota Super Grandia |
| | 235/70R15 | Isuzu Crosswind |
| | 235/75R15 | Ford Ranger |
| | 255/70R15C | Toyota Hilux |
| 16" | 205R16LT | Nissan Navara, Mitsubishi Strada |
| | 245/70R16 | Toyota Hilux, Ford Everest, Ford Ranger, Chevrolet Trailblazer, Chevrolet Colorado, Nissan Trooper, Isuzu mu-X, Isuzu D-Max |
| | 265/70R16 | Toyota Fortuner, Toyota Prado, Mitsubishi Pajero 4x2, Nissan Patrol |
| 17" | 265/65R17 | Toyota Fortuner, Toyota Hilux, Mitsubishi Montero, Ford Everest, Ford Ranger, Mazda BT-50 |
| 18" | 265/60R18 | Toyota Fortuner, Toyota Prado, Mitsubishi Montero, Mitsubishi Pajero, Mitsubishi Strada, Ford Everest, Ford Ranger, Chevrolet Trailblazer, Chevrolet Colorado, Chevrolet High Country Storm |